Main content starts here, tab to start navigating

Seven-course Bali-inspired, plant-based tasting menu
£45 per person
Fri 18th & Sat 19th Oct
Hoxton, London

(vg)(gf)
Address: 46 Great Eastern St, Hackey, London, EC2A 3EP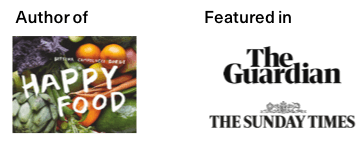 **THIS RESTAURANT IS NOW FULLY BOOKED**
Menu
Urban garden
cob nut pesto, hazelnut dust, green bean and leek puree on Nasturtium leaf
Filled courgette flower
with truffled aged cashew cheese on a miso and sesame dressing
Fava bean
with slow cooked leek & sourdough
Home made British tofu
tamari, chilli dressing, spring onion on British quinoa with padron peppers, quick pickled cucumbers, home made kimchi on the side
Poached spicy pears
with custard, candied almond crunch
Cheese board
selection of aged nut cheeses, macadamia, camembert, and truffled cheese, crackers and pears
100 % Bon Bons
says it all really
*Information about the paired cocktail, Chef's recommended wines & the drinks menu are available on the night.
Book now
About the Chef
Kicking off the table&candle calendar for 2019 is acclaimed plant-based chef, Bettina Campolucci Bordi, who's bringing a seven course, gluten-free plant-based menu with paired cocktail and wines to Iron Bloom in Hoxton 18th-19th October.
Bettina spent her first eleven years in Tanzania, visiting markets with her mother and "making things from scratch like yogurts, milks and butters… and using lots of fresh herbs". This approach is pivotal to her style of cooking now - and she combines it with the "pickling, preserving and foraging" methods she picked up during her teenage years in Scandinavia.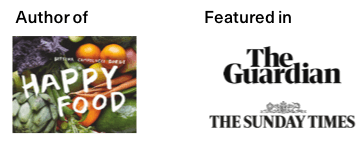 Book now
Bettina's 7-course tasting menu brings to life her diverse upbringing whilst infusing ingredients and influences from various South East Asian cuisines.
Elaborating further on her cooking style and on what table&candle diners can expect, Bettina talks about her desire to create multi-dimensional dishes "with lots of flavours, textures… (and) colours that bring out emotion".
In spite of the surging popularity of vegan food, Bettina feels it's still a challenge to find chefs with the requisite skills to do this approach justice - which makes the highly skilled team and menu she's assembled for her first table&candle restaurant outing something to savour, for even the most stubborn of omnivores.
Music on the night: World funk, soul & jazz with a LIVE set from a percussionist/harpist duo.


Some partners bringing this restaurant to life
Rebecca Williams is a ceramic designer and maker based in Sussex. She works with porcelain and stoneware clays to create simple, imperfect vessels which evoke a sense of nostalgia and 'hygge'.
Read more
Living Windows is a local East London urban project specialised in bespoke planters, plant curation and garden design.
Read more